Super-Hit Mini Massage Gun
12MM Deep Percussion Fitness-level Massage Gun
The amplitude of no less than 12mm is the bottom line of a fitness-level massage gun
Small and portable / 12MM deep percussion
Silence and denoise technology / USB charging; Smart touch screen design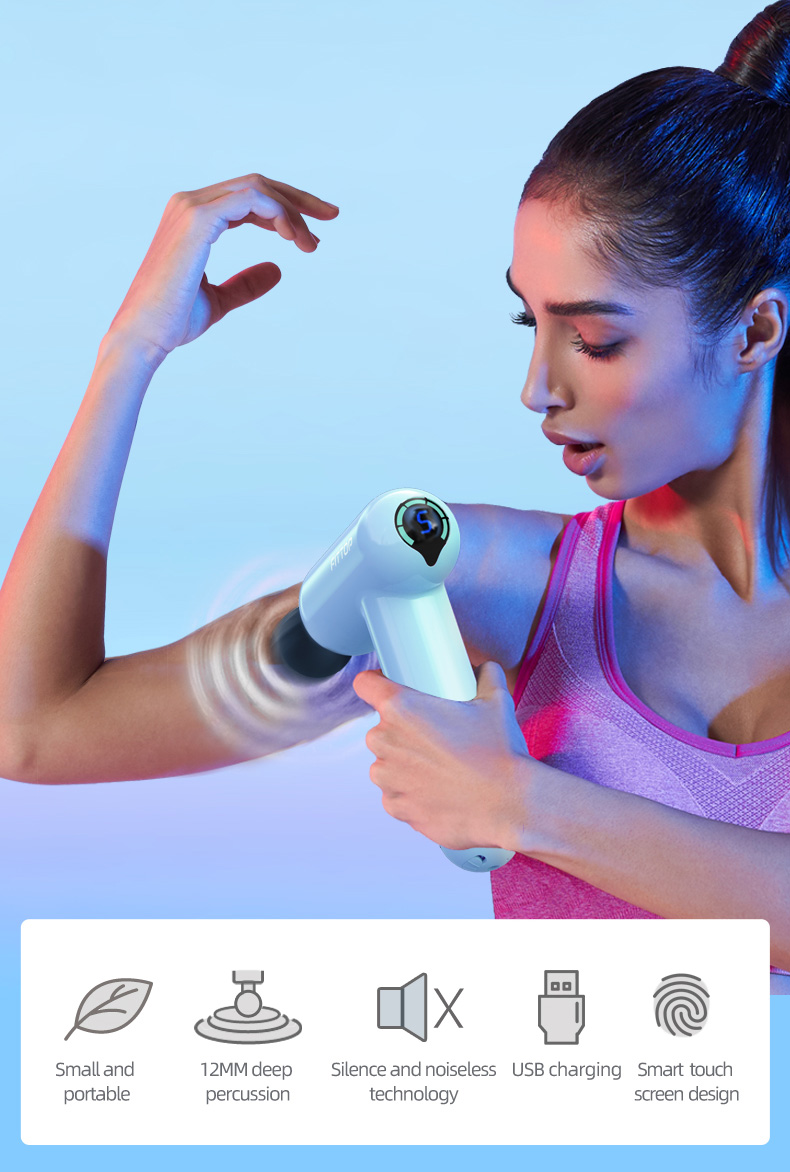 How important is the amplitude of the massage gun
Different amplitudes have different ways of vibration to relax muscle
The thickness of important muscle groups such as pectoralis major, back
muscles, and gluteal muscles of many fitness enthusiasts even exceeds 30mm.
A fitness-level massage gun with amplitude less than 12mm is far from
relaxing the deep muscle fascia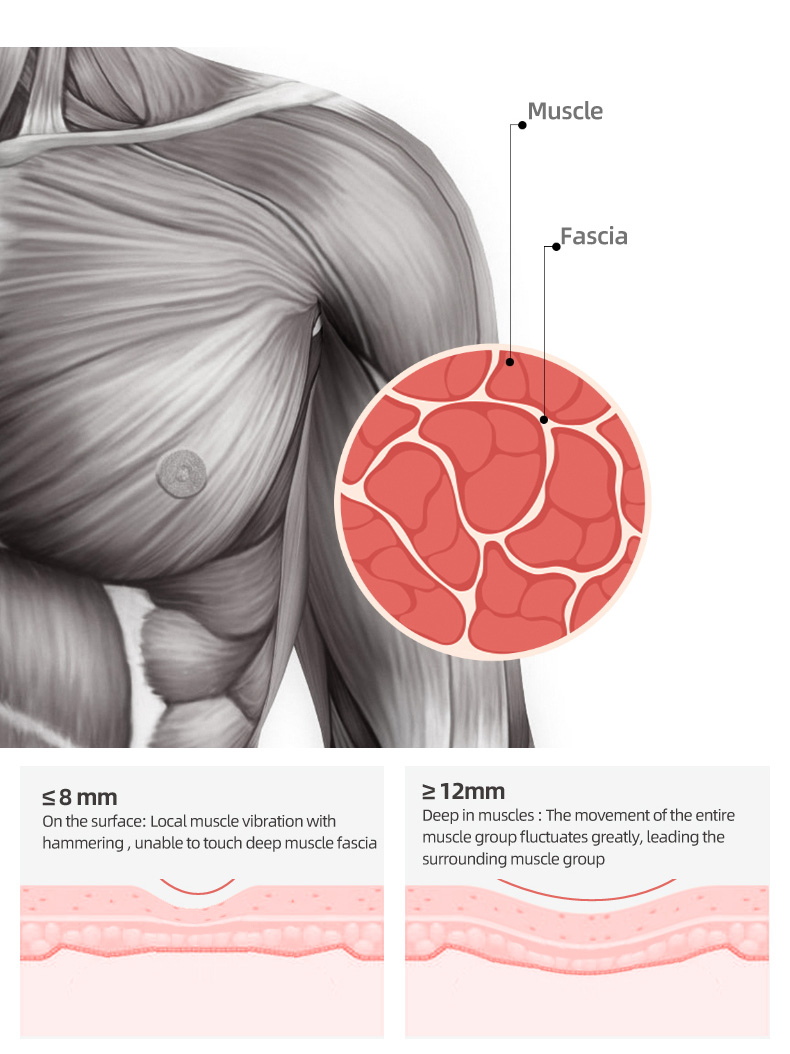 Equipped with high torque brushless motor
Brushless motor with double bearing rotation brings about strong powers.
High-speed percussion at 3500 rpm enables to penetrate 12mm into
deep muscle groups and quickly enhance the removal of lactic acid
accumulated after exercises, offering you a comfortable experience of
deep percussion into muscles directly.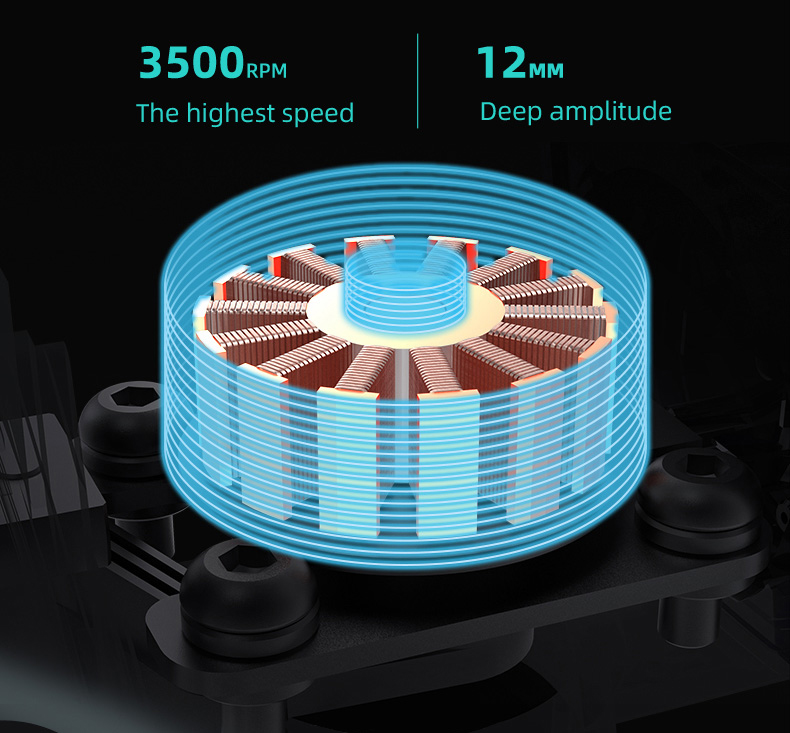 Double bearing structure design
Continuous and smooth percussion
Imported ball bearing, smooth operation, noiseless, durable
Double bearing structure:To ensure continuous power output without delay, smooth
percussion and controllable the vibration amplitude to decrease stimulation to the arm.
Single bearing structure:Larger range of percussion, unstable power output,
strong vibration to the arm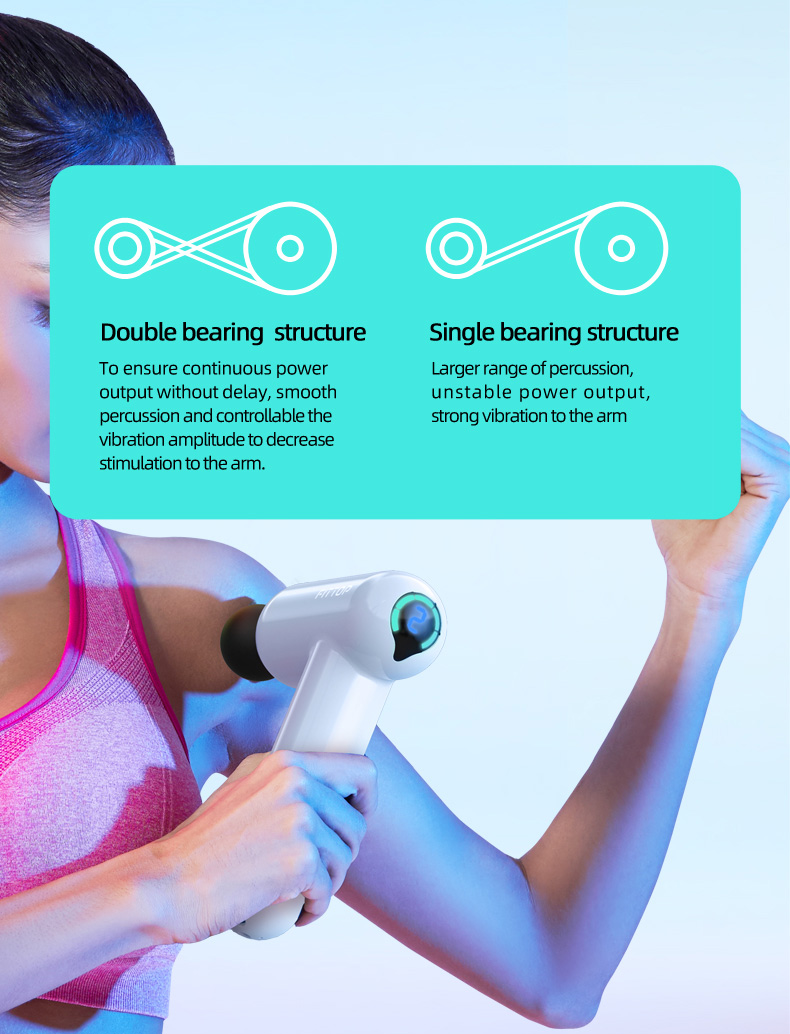 AI intelligent touch control single-button operation
Cool water droplet screen display clearly shows power level,
speed mode and operation button,
with all operation controllable, one button to start directly all
comfortable experience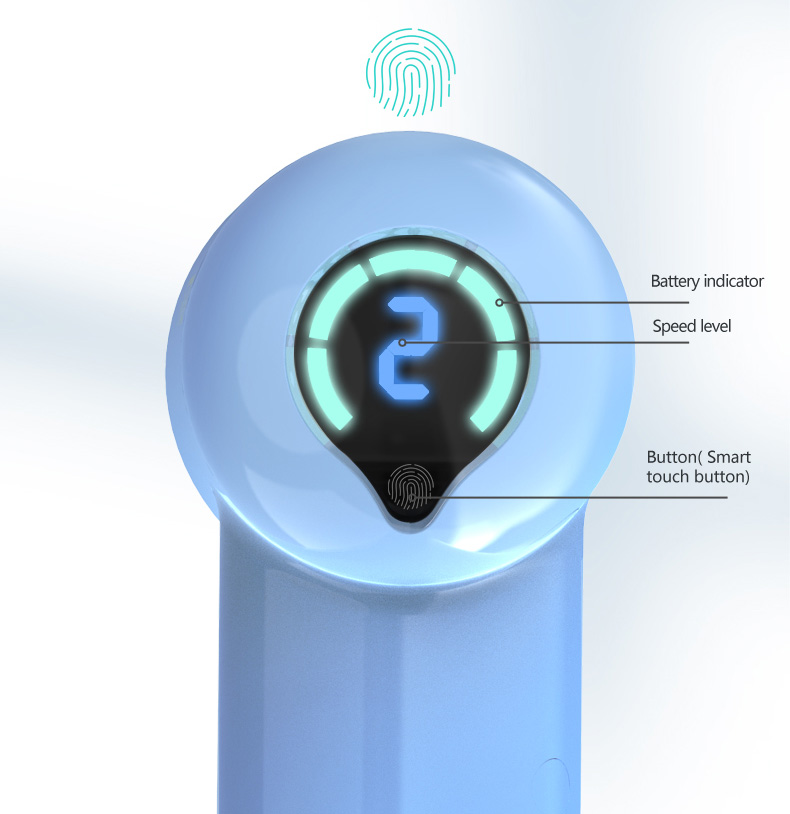 Five speeds optional+Stepless speed regulation mode
Speed mode:Short press sequentially to switch between 5 modes

Stepless speed regulation mode:Long press continuously




Hands won't feel tired after long time use, small and

portable for storage

A small massage gun is tastefully done with exquisite process.

Small size, easy to be taken along with when exercising or

going to the gym.




---

Lightweight body Small but powerful

Super-Hit Mini takes the performance core of the fitness-grade massage

gun at the same time re-forges it into a lightweight mini body.

The Super-hit Mini has a net weight of 600g,half the weight of
the common fitness massage gun



USB portable charging

In the past, you had to charge the massage gun in

advance before going out.

Now, just leave as you want, you can charge at any time,

keep the battery fully charged




Sport car-level battery with

long battery life

No trouble for frequent charging, lasting for nearly

half of a month makes you enjoy massage at anytime,

no worry of long-distance travel any more.

*15 days use time calculated by using 15 minutes per day. Please understand that there may be a

slight difference while using.




Silence and noiseless technology

Whether in gym, home or office, no one would be disturbed.

Just indulge yourself into quite and cozy relaxing hour




Super-Hit Mini has three massage heads

Redesigned for deeper percussion needs

Three massage heads to take care of every muscle group
Nano - crystal piano coating
Through 7 exquisite coating processes
Creating the delicate texture and alluring luster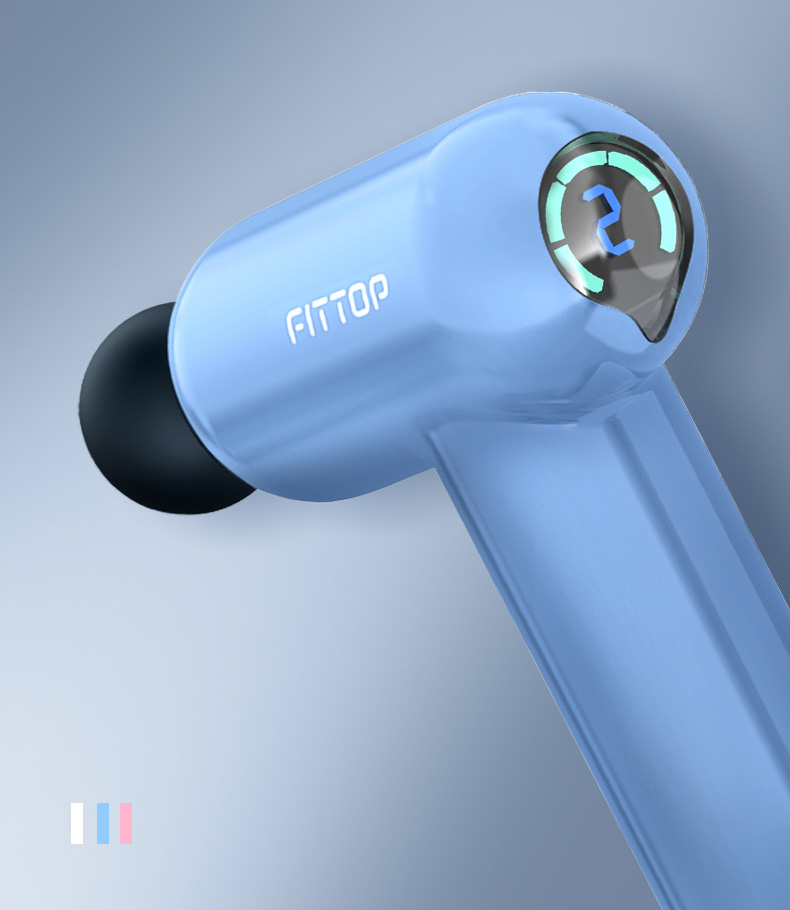 Application
Applicable to a variety of people, scene needs
Strenuous exercise / Stretching / Daily exercise / Daily massage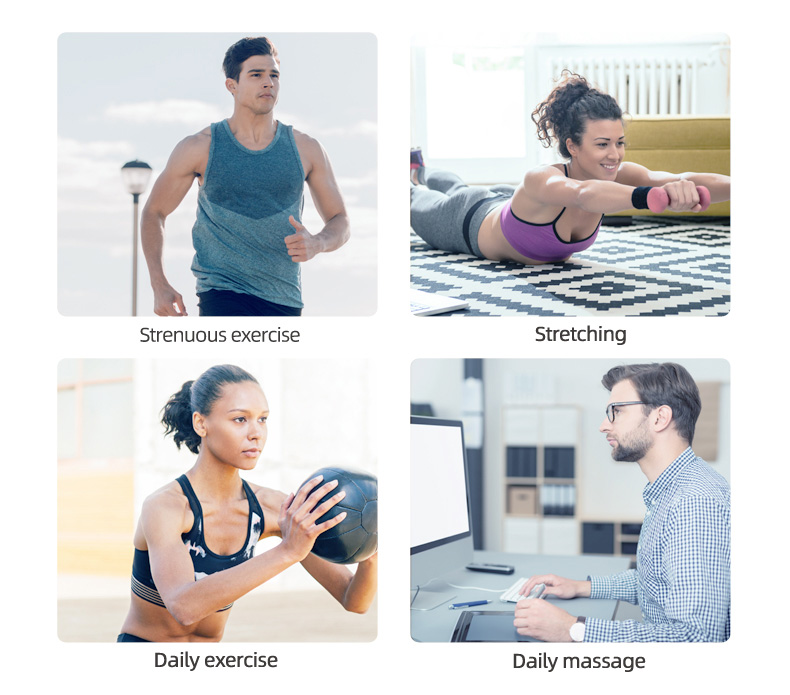 Multiple colours
which one do you pick?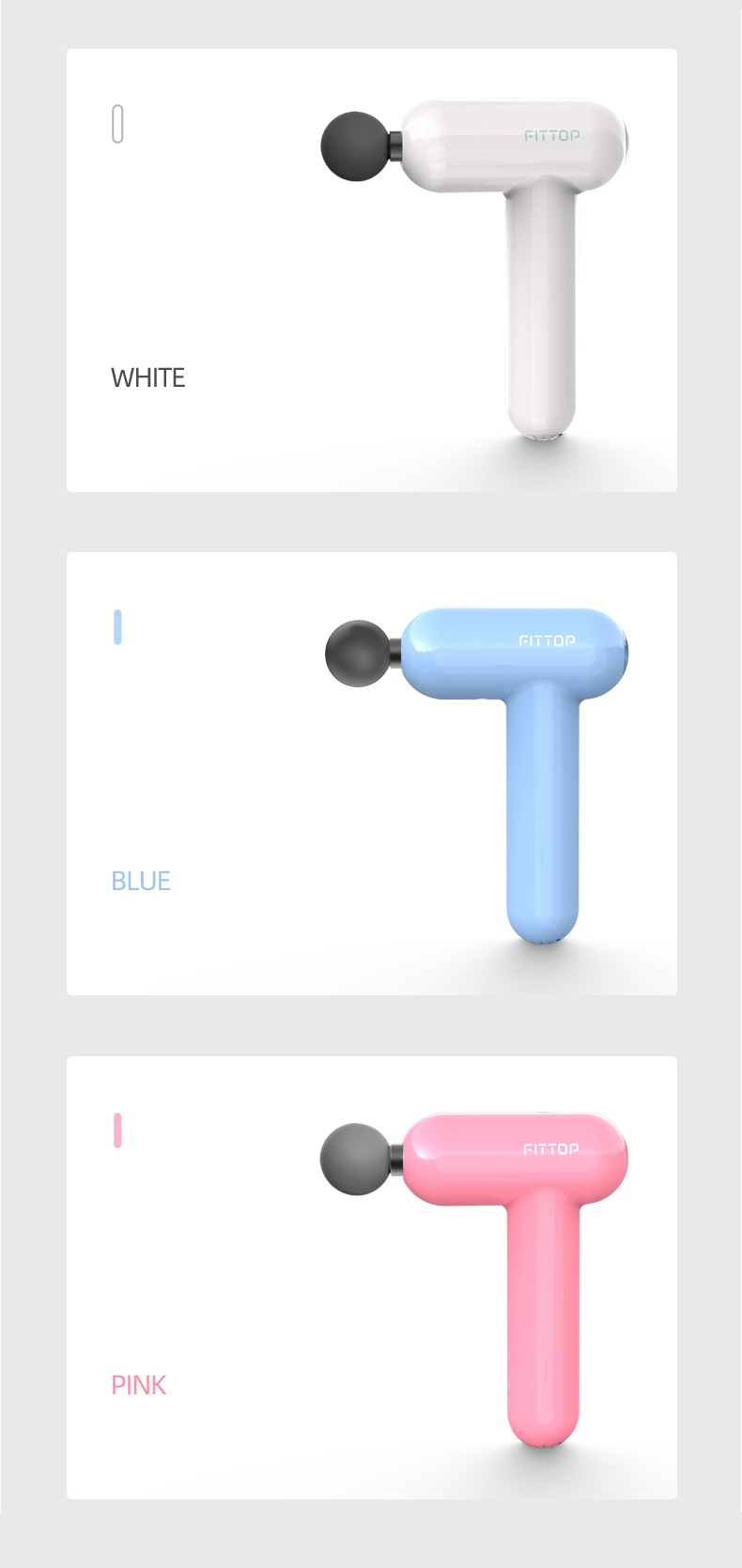 Package
Super-Hit™ Mini percussion massage gun X1 USB cable X1
Massage head X3 User manual X1 Certificate of approval X1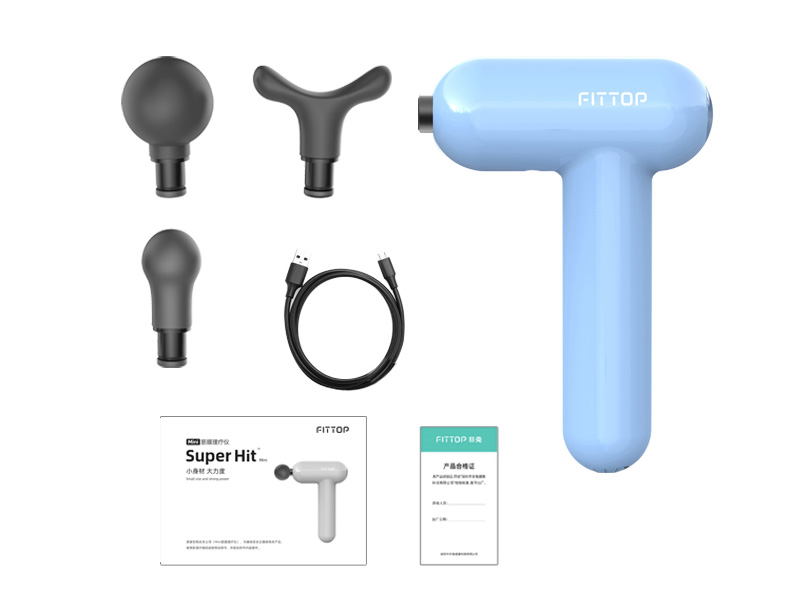 Product Parameters
Product Name:Fittop Super Hit Mini
Size:200*154*55mm
Product Weight:about 0.6kg
Rated Current:about 2000mA
Power Supply :Chargeable lithium battery
Certificates:CE, FCC, RoHS, FDA
Customer Hotline:400-822-6800
Manufacturer : Shenzhen Fittop Health Technology Co.,Ltd.